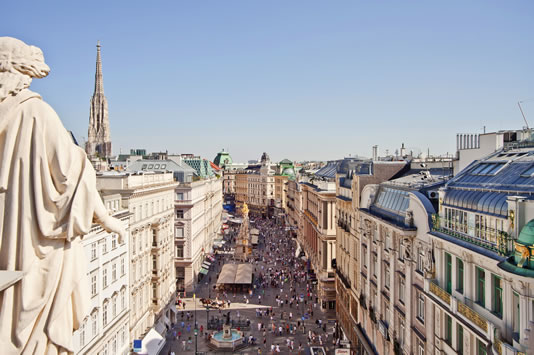 PREGNANT IN VIENNA
Vienna, one of the most romantic, cultural and majestic cities in Europe. The ultimate destination for a once in a lifetime babymoon. Expecting couples will be amazed by the diversity of the city, the luxurious shopping streets, the cultural program, cuisine, impeccable service and luxurious hotels.
Vienna is easily reachable by plane, train or car. Vienna International Airport (VIE = airport code) is about 16 km east of Vienna.
The Official Travel Guide for Vienna
PRE-BABY BREAK
BabyMoon® Travel offers a delightful maternity break at one of the most luxurious hotels in the city :
Park Hyatt Vienna
Am Hof 2,
1010 Vienna
Babymoon includes luxurious accommodations, Daily Breakfast for Two in restaurant The Bank or in-room breakfast via room-service, a 60 minutes Mum-to-Be Foot Treatment at Arany Spa and Pre-Birth Park Hyatt Baby Gift.
BABYMOON ACTIVITIES
Vienna boasts 50 theaters, including four opera houses and several stage musical theaters, 150 museums, numerous galleries, and renowned drama, music and dance festivals. All this ensures an extraordinarily rich cultural program throughout the year, making the city one of Europe's leading cultural centers.
Highlight for expecting couples
Prater park with the famous Giant Ferris Wheel
The Naschmarkt, Vienna's multinational fruit and vegetable market which also features a flea market every Saturday.
Make your babymoon extra memorable and take the 'must do' Fiakerfahrt

Visit Empress Sisi's former summer residence. This baroque complex contains an enchanting park, the Palm House, the Gloriette and a Zoo (with Panda's, too cute for words)
 Spend an entire day at Schönbrunn: visit the show rooms with a "Grand Tour with Audio Guide," admire the splendid Bergl Rooms, and stroll through the "Labyrinth."
Relax in one of Vienna's beautiful inner-city parks or gardens. Vienna is one of the greenest cities in the world. More than half of the metropolitan area is made up of green space. Such as Stadtpark or City Hall Park.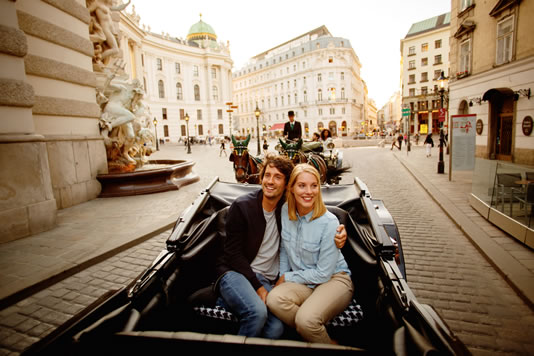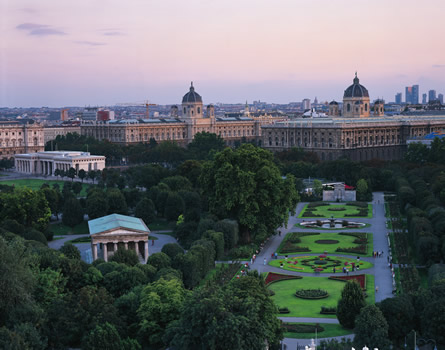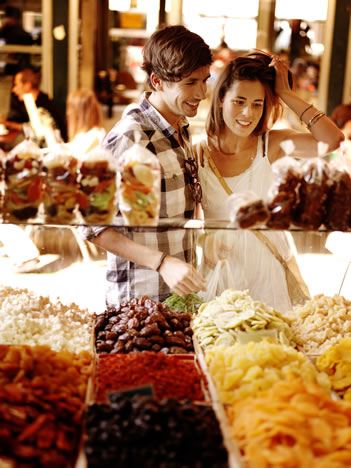 WEATHER IN VIENNA
Each year there are 67 days with temperatures of 25°C and over, and 50 days with temperatures below freezing. Westerly weather systems prevail, the average air temperature is eleven degrees and precipitation is 600 mm/year.
PRE-NATAL SHOPPING SPREE
In Vienna, the main – and most exclusive – shopping streets of Kohlmarkt, Graben and Kärntner Strasse form a pedestrianized area, which is known locally as the Golden U.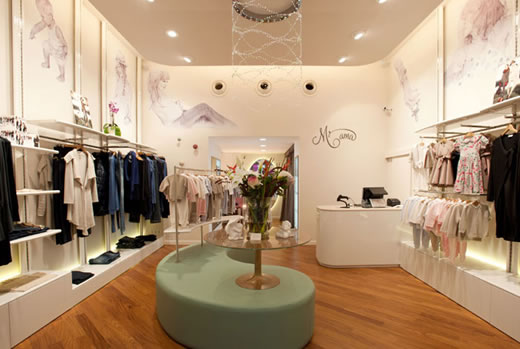 This luxury hotspot took on an extra dimension in 2014 when the neighboring Goldenes Quartier (taking in Tuchlauben, Bognergasse, Seitzergasse, and Am Hof, where Park Hyatt Vienna is located) officially opened for business. Kohlmarkt is lined with international brands such as Burberry, Cartier, Chanel, Chopard, Dior, Dolce & Gabbana, Giorgio Armani, Gucci, Salvatore Ferragamo, Tiffany & Co and Tommy Hilfiger.
The roll call at the Goldenes Quartier is no less luxurious. Located in a complex of heritage-listed historic buildings stretching between Tuchlauben and Am Hof, this new development is home to an impressive line-up of big names including Bambini (children's fashion), Bottega Veneta, Brioni, Roberto Cavalli, Church's, Brunello Cucinelli, Emporio Armani, Etro, Kiton, Alexander McQueen, Miu Miu, Mulberry, Pomellato, Prada (its largest store in Europe), Saint Laurent Paris, Sergio Rossi, Valentino, Louis Vuitton (including the second largest LV Maison store in Europe), and 7 For all Mankind.
Just opposite the Goldenes Quartier, a raft of exclusive stores including Akris, Vivienne Westwood, Agent Provocateur and Jimmy Choo are taking Tuchlauben by storm. A few streets further on is Hermès which has been a fixture in the capital for many years, just like Versace.
PREGNANCY CRAVINGS
Demel (est. 1786) Kohlmarkt. Sweet Treats, Eye-Catching windows, high art of confectionary.

©WienTourismus / Peter Rigaud Legend: Coffeehouse: Demel art of confectionary.

A few buildings down is the equally illustrious Meinl am Graben, with its delectable delicacies.
On Graben 30, Altmann & Kühne awaits with its fine pralines, lovingly packaged in little boxes
Café Sacher Vienna offers the perfect chance to sample a typical Viennese coffee-house atmosphere and of course to treat yourself to a slice of the legendary Original Sacher-Torte. Philharmonikerstrasse 4
Or for chocolate cravings, visit Xocolat Manufaktur at Servitengasse 5
PRE-BIRTH SHOPPING FOR MOM & BABY
Boutique Mimi, Mariahilferstrasse 22. Maternity Wear for Mom
Mama & Kind, Goldschmiedgasse 10. Maternity Wear and Baby's Fashion
Boutique Bébé Maternity Wear, Viriotgasse 6.
Unter Umständen, Windmühlgasse 15. Maternity Wear
Kärntner Strasse is home to one of just a handful of department stores in the city. Split across several floors, the Steffl department store offers fashion, fragrances and accessories.
The nearby Ringstrassen Galerien is a spacious, indoor shopper's paradise containing 70 shops and restaurants.

Mama und Kind Vienna interior

Department store Peek & Cloppenburg has moved into a new building created by British architect David Chipperfield on the famous shopping street.
Luxury Children's boutique Bambini Fashion has two stores in Vienna, one located inside Steffl Department store (4th floor), the other at Tuchlaubenhof 7, Goldenes Quartier.
Mariahilfer Strasse, Vienna's longest shopping street. Vienna's number one shopping destination and partly pedestrianized. This large thoroughfare features broad sidewalks and has attracted hundreds of shops and flagship stores carrying international brands, with a particular focus on fashion, footwear, accessories and interior design. There are also countless eateries, including cafés, ice-cream shops, fast food restaurants and pizzerias.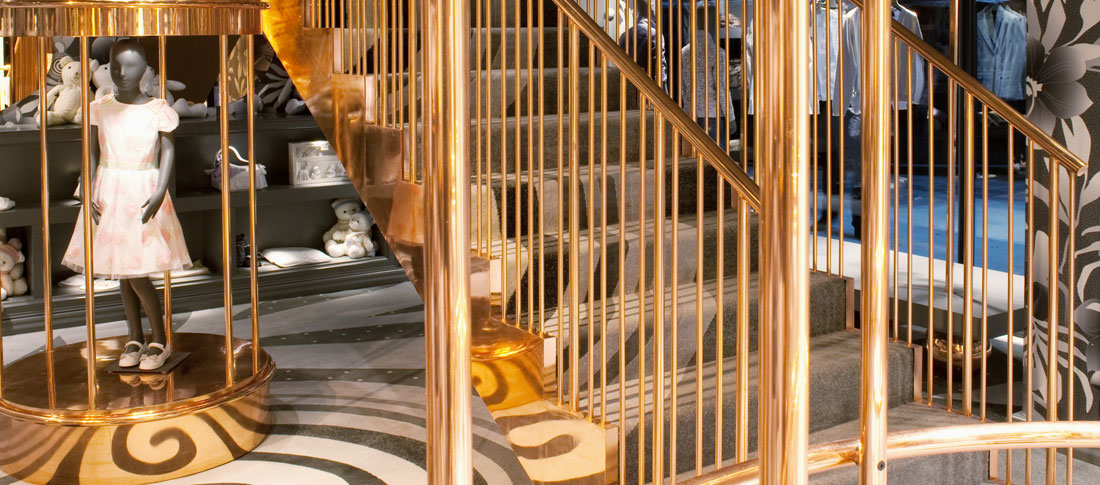 GETTING AROUND IN VIENNA
Vienna offers a great public transport system. Vienna's subway system is well-equipped for guests with disabilities and special needs. All subway stations and trains are almost entirely wheelchair-accessible. Almost all stations have "guiding strips" for the visually impaired, showing the way to stairs, escalators and elevators.
Further, "Low floor" vehicles operate on almost all streetcar and bus lines in Vienna to make it easier for people with restricted mobility to board and alight.