PREGNANCY CALENDAR
We came across this handy Baby on the Way Calendar, designed by DOIY Design. BABY ON THE WAY is a pregnancy calendar that has a countdown system that helps you start every passing day to count the time until the arrival of your future baby.
The content includes 1 planner calendar, material : paper, size : 106x50x0,1cm
ABOUT DOIY DESIGN
DOIY is a design brand focused on home accessories and affordable design gifts. Visit their online shop and discover a bunch of ideas for an original, curious, different, funny and special gift.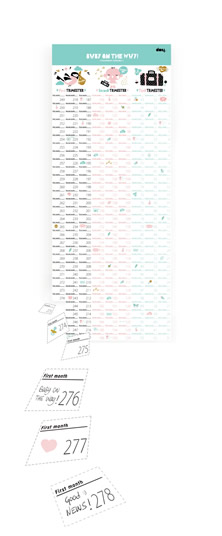 DOIY is a young brand which creates quality products, at very affordable prices. DOIY is a brand where people can acquire, or share, original, different and perfectly-designed objects. Objects that bring cheer to your day. DOIY wraps us in a very optimistic world using iconic creations focused on curious gifts and home accessories.
Its creations always tell us a story. A story that can be poetic, nostalgic, ironic…but that will never leave us cold. DOIY was created in 2008 by Elodie and Jaime, two young entrepreneurs. Their background in  fashion and design,  coupled with their passion  and enthusiasm for  creativity, has allowed DOIY to grow quickly and globally. Today DOIY products can be found in over thirty countries worldwide in cities such as New York, Tokyo or  Paris…