At Etsy, where else, right ?,  we came across beautifully handmade door hanger signs for hospital or baby's nursery. The door hangers come in great variety such as newborn door hanger wreaths and even newborn door hanger pillows.
We have picked our Top 3 of Newborn Door Hangers !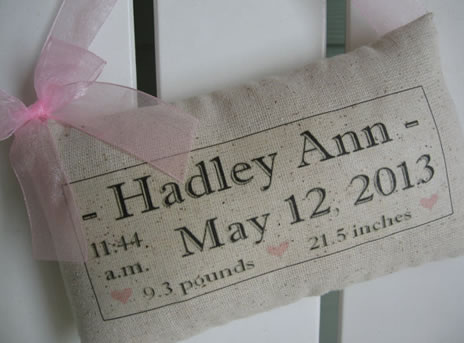 Newborn Door Hangers
1. Abundant Haven

Door Pillow Sign "Sometimes the smallest things take up the most room in your Heart" by Winnie The Pooh. Add this sweet little personalized pillow to your baby's door knob. It also makes a perfect baby shower gift.
Door pillow is customized with baby's name and a sweet Winnie The Pooh quote. Many other options are available as well, such as the birth announcement with baby's name, weight etc.
Fabrics/Materials  : Organza ribbon hanger / bow is available in 12 colors, Flecked Oatmeal Hopsack fabric is 100% cotton.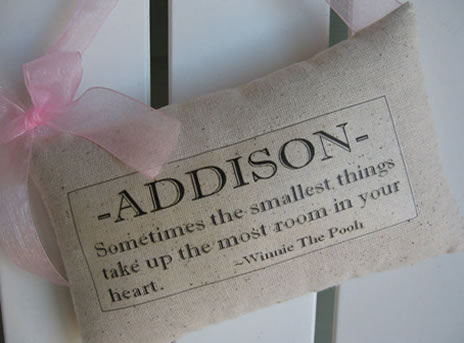 2. Genevieve Designs BR

Original Genevieve Designs burlap newborn announcement wreath with chalkboard sign and interchangeable bow. The sign with Shhh…. Baby Sleeping is a great gift for new parents who want to let visitors or the mailman know when baby is sleeping.
Fabrics / Materials : 7″ x 10″ custom designed chalkboard sign, 24″ burlap wreath with soft backing to protect your door or wall. Handmade interchangeable and removable bow.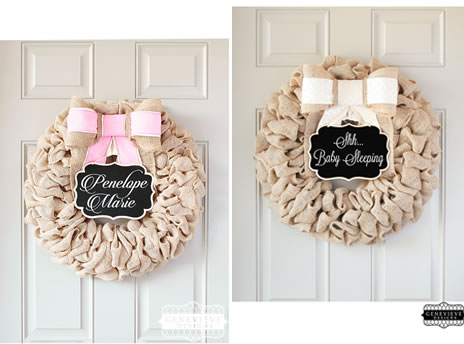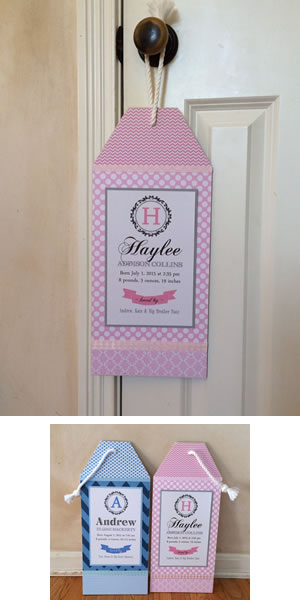 Announce your new arrival in style. This Personalized Luggage Tag Sign is the perfect addition to any child's room. Hang it on the door to the nursery or on the wall as a nice focal point to any room.
Much time is spent by TheMemoryKeepers in the creation of each plaque for a sweet, cottage chic look.
Each plaque is handmade, so no two items are completely identical. They measure approximately 18″ x 7- 3/4″.