Baby Nightlight at Skip Hop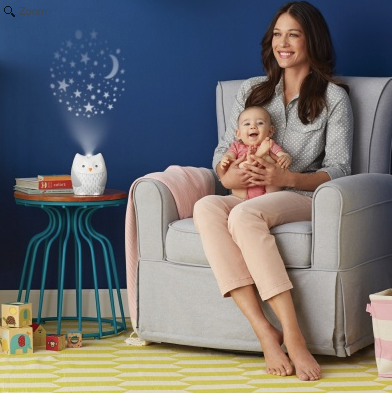 We came across this smart Baby Nightlight, the Night Owl from Skip Hop which comes with many features :
a dimmable baby nightlight
soothes baby with 8 gentle melodies and calming nature sounds
starry nightscape projector
This stylish feathered friend is a natural fit for the modern baby nursery. Featuring a dimmable baby nightlight belly that emits a warm glow, it soothes baby with eight gentle melodies and calming nature sounds. An adjustable pivot lens projects a starry nightscape onto any surface so little one can see the luminous sky from his or her favorite sleeping position. Just choose the light and sound combination that's right for your baby and this Skip Hop wise owl will do the rest!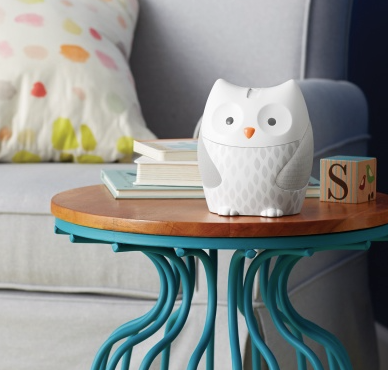 Baby Nightlight ($40) at SkipHop.com MOONLIGHT & MELODIES nightlight soother
More details :
Serene stars & moon projection
Glowing nightlight belly with dimmer control
Plays four melodies (Eine kleine Nachtmusik, Twinkle Twinkle Little Star, Brahms'Lullaby, Rock-a-bye Baby and four nature sounds (Rainforest, Jungle crickets, Waves, White noise with heartbeat)
Choose any combination of lights and sounds
Auto-off timer sets for 15, 30, 60 minutes or continuous play
Plugs into any standard outlet
Volume control
Size (inches): 5.5l x 4.5w x 6h
About Skip Hop | How It Started
In 2003, new parents Ellen and Michael Diamant were a lot like new parents everywhere: overjoyed with the birth of their son, and overwhelmed with so many choices, so little time, and so few solutions that satisfied.
When they searched for a diaper bag that looked great and worked well, they found nothing. So they invented something.
Almost a decade and hundreds of products later, Ellen and Michael are still inventing "everything-in-its-place" solutions that are smart, functional and great- looking for overjoyed, busy parents like themselves.
Today, Skip Hop is a global brand recognized by discerning parents for innovation, great design and the highest quality in the baby products business.