BABY BOTTLE HOLDER
Last Friday's Shark Tank season 7 premiere with guest "Shark" Ashton Kutcher started very good when we saw an amazing new baby product, The Beebo. The Beebo is a free hand baby bottle holder designed to enhance the feeding time between you and your baby.
The Beebo was invented by a devoted, hands-on dad and engineer, Martin Hill. His baby boy was pretty fussy during evening feeding time, and Martin found that his baby became calmer when he was read to. Martin created the Beebo as a way to enhance feeding time so he could read to his boy with his free hand during feedings. Martin's wife (Sarah) loved that they could more easily have family meals together while their baby also enjoyed his meal.
We were delighted to see both sharks Lori Greiner and Ashton Kutcher team up and make an offer that Martin Hill, the creator of The Beebo, happily accepted.
The Beebo is only $39.95! And TODAY ONLY you can save 10% off + free shipping with Shark Tank's Special, use promo code SHARKTANK at checkout, limited quantities.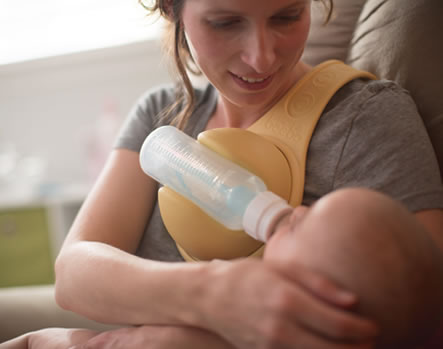 BOTTLE SIZE
The Beebo fits just about any baby bottle because the holder is made of squishy foam. If it feels a little tight turning the bottle holder with your bottle in it, you can loosen up the holder by spinning it back and forth.
USE OF THE BEEBO
The Beebo isn't heavy; it's lightweight and comfortable even with a bottle of milk in it. It will stay on your shoulder. The ribbed underside grips your clothes and the counterweight at the back of the Beebo keeps it balanced and securely in place.
BEEBO MATERIALS
The Beebo was designed and used by a parent, with safety in mind. All materials are BPA-free, lead-free, PVC-free and phthalates-free.
Website of The Beebo + Twitter @the_beebo