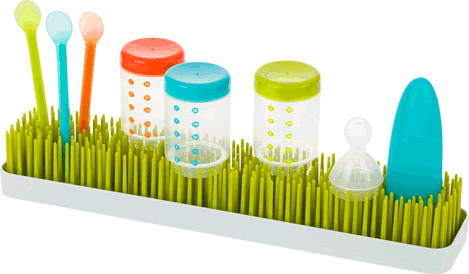 Baby Bottle Drying Rack ($18,99)
We came across Patch , Boon's Countertop Drying Rack. Perfect for narrow spaces, like the windowsill or that utterly useless area behind the sink.
It holds all of your just-washed baby accessories: bottles, sippy cups, pacifiers etc.. And best of all, it looks great year-round. No green thumb required.
Low-profile drying rack looks great in any kitchen
Perfect for drying items of all shapes and sizes
Easily holds items upright for drying while excess water collects in bottom tray
Two-piece, easy-to-clean design
Looks great in window sills or small spaces
BPA-free, Phthalate-free and PVC-free
Dimensions: 3.5″ x 17.25″ x 3″
CLEANING & CARE
NOT Dishwasher-safe. Wash thoroughly before initial use and periodically. Hand wash in warm, soapy water. Rinse thoroughly and air dry. DO NOT microwave.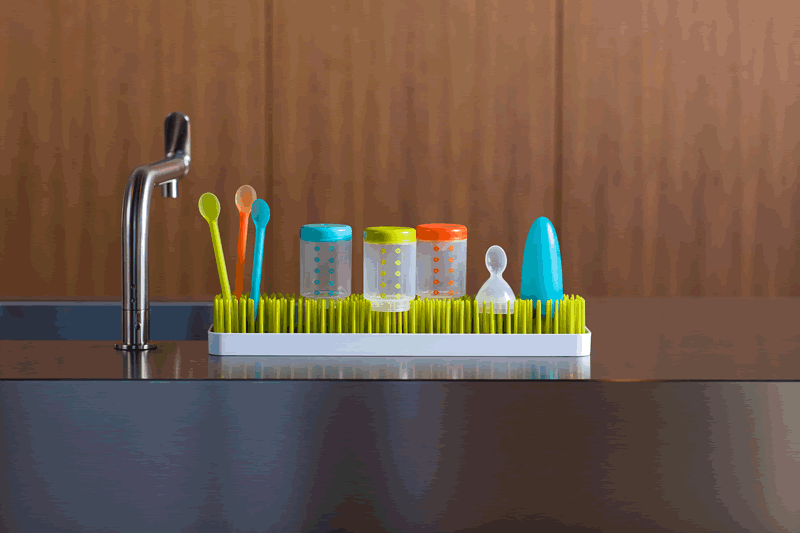 ABOUT BOON
It all began with a messy toddler bathtub. Designer Rebecca Finell's wheels started turning and the Frog Pod was born.
But the problem solving didn't stop there. She had lots of ideas for other parenting innovations so she sought out a partner, Ryan Fernandez—who could create a successful business—and together they founded Boon Inc. Today Boon offers a wide range of products that help parents all over the world.
Committed to creating nothing but the most innovative gear—and keeping it affordable. Boon's design studio is always in motion, tackling one parenting challenge after another. And don't forget Boon's commitment to quality and safety.
ABOUT FROG POD ($24,99)
NEED A TOY-FREE TUB? HOP TO IT. Kids enjoy chaos. Moms do not. So when it's time to round up the bath toys leave it to this lean, mean gobbling machine. This new and improved FROG POD includes an extra-large scoop so you can store and organize even more stuff. Adhesive strips make it easy to mount on the wall and air holes allow toys to dry, reducing mold and mildew build-up on toys.